Member Spotlight: Joff England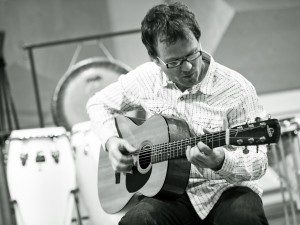 It is my pleasure to present Joff England who is a Gold member:
What instrument(s) do you play?
Guitar (Gibson 335)
How did you start learning music?  
Piano lessons and listening to my parents records and the radio. 
I was brought up in a musical family. My mother was a church organist, and my father, a professional singer, performed throughout the UK, made several TV appearances and sang at the London Palladium. At the tender age of 15, armed with a jazz-chord encyclopedia and my electric guitar, I began performing with him in bars and clubs around Devon and Cornwall.
I graduated from The London College of Music with a GLCM (Hons) and an LLCM (TD) in classical guitar playing. I was awarded the Jazz Scholarship at Trinity College of Music, where I worked under British jazz legend Dave Cliff. I went on to study with King Crimson guitarist Robert Fripp and more recently with acoustic guitar legend Clive Carroll.
I have toured extensively as a guitarist with a variety of bands throughout the UK and Europe including appearances at the Montreux Jazz Festival, the Edinburgh Festival and T in the Park. I now live in Bristol and am currently writing and working on material for my first solo acoustic guitar album.
What are your top 5 albums?    
Wes Montgomery/ Full House, Charlie Parker Complete Dial Sessions, Jim Hall Live '75 , Bill Evans Portrait in Jazz, Emily Remler East to Wes
What are your current project(s)?
I'm working with a great double bass player, Russell Carr, we're getting some standards together and we may expand into a trio in the near future.
What are some of your musical goals?
I've got some compositions I want to develop and I'd love to spend more time on these and i also want to get out and play regularly again as a duo / trio.
How long have you been a JVL member?
About a year now.
What do you like about it?
It's like being at college with a dedicated individual teacher, who's passionate and dedicated about getting his ideas across. 
How has it helped you?  
I've really found the detail in all lessons so useful, from tips how to organise your practice routines to delving into the deeper territory of a Parker solo and gaining insight into developing these elements in your own playing.
What's your favorite video on JVL?
I think the Parker comparisons lesson on Au Privave, so great to see the clear PDF's side by side.
Any other thing you want to share with us?
With so many distractions thrown our way every second of every day, it's great to be part of a strong community all sharing and learning through their passion for jazz. 
You can visit Joff's website http://joffengland.com for more info!