The ultimate jazz standards lists – Build your repertoire
free lessons, Others, Video Gallery
Standards are the common denominator, the atom of Jazz if you will. Knowing a number of standards is a must for jazz musicians. There is no way around it, and you shouldn't try to find a way around (reading from real books), the answers to all your questions are in these standards!
Saxophonist Miguel Zenon:
"Learning tunes and playing sessions made sense to me because Jazz is collective music by nature, so the bigger my repertoire, the more chances I would have to connect with other musicians."
Check out my step-by-step procedure to learn a tune
To know a standard means you have memorized and can play the melody and the chords on your instrument and on the piano, in different keys, ideally in all 12 keys.
How to transpose a standard, easily and efficiently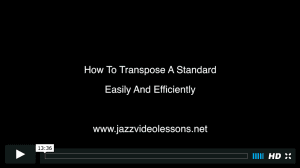 When I say you have to play a tune on the piano, I'm not expecting you to play like Erroll Garner, but you can play 2-note voicings on the right hand and the bass on the left hand. That's it. But practicing this will help you greatly to hear and understand the science behind chords and voice leading.
To know a standard is also to know the historical versions of that tune. I suggest you also find vocal versions to hear how singers used to interpret those standards. For instance if you're learning Bye Bye Blackbird, you got to know the version by Etta Jones:
The Miles Davis version:
The Coltrane version:
And of course this version I recorded of Joe Lovano and Chris Potter:
If you work on Autumn Leaves and have never heard the version from the album Something Else, do that right now! I like to find versions with singers. If you work on Blue Bossa but don't know the version by Kenny Dorham, you're doing something wrong, if you play Inner Urge you should know the Joe Henderson original version etc… you got the idea. Listen to many versions and identify the differences (harmony, form, melody).
Check out how to improve your musicianship by actively listening to an album
There are thousands of standards. I'm going to give you a great tool: a spread sheet with different lists of tunes:
The A-Z list
The Must Know list
The by composer list
The by style list
The Julliard School list (for the auditions)
The Keith Jarrett list
From this, make the list of the standards you know. Build your repertoire, the book of tunes you can play and call to a session. 
Check out the ultimate standards list!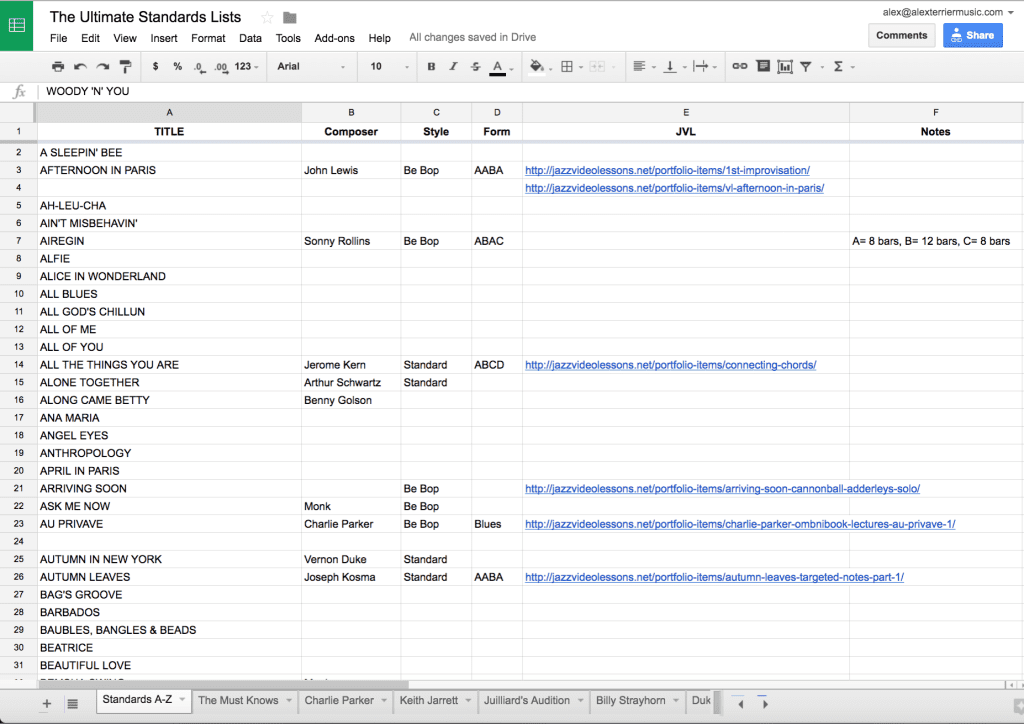 Try to avoid using lead sheets. I know it's more convenient and faster to read a lead sheet but you will have a much harder time to really memorize the tunes and you will need to constantly come back to the paper.
There are hundreds, if not thousands of standards. Yes, it does sound overwhelming! But 1) you probably don't have to know all of them (I don't), and 2) standards are called standards for that very reason: they are standards! They use standard forms and standard chord progressions. Once you learn, understand and hear a couple dozens standards, you will be able to hear and understand the form and chords progressions from most of the tunes.
I hope you'll enjoy this tool and find it useful. Let me know in the comment section what you think. Feel free to share this page with your friends whom you think might be interested!