Alex Terrier – Saxophonist, Composer, Arranger
"Music is a higher revelation than all wisdom and philosophy." Plato
Alex Terrier was born in Paris, France, in 1980. He didn't grow up in a musical environment, but "the day I sat down to the piano with my grand-mother was the first step to a life long journey into the world of music" Alex says.
Studying classical piano for a few years, it was a shock when Alex Terrier, around age 8, heard Duke Ellington and the sound of saxophonist Johnny Hodges. That was the second step.
From that day on, Alex Terrier has been dedicating his life to Jazz: "I used to get up in the morning and play the piano half asleep, really first thing in the morning before breakfast. I would listen to music all the time, read, study… that's all I did when I was a kid. That drove my mom crazy!" His first influences were Duke Ellington, Memphis Slim, Fats Domino, and Sydney Bechet, as these were the few LPs he found in his father's home office. Alex received a Brevet de Technicien des Métiers de la Musique in Sèvres (equivalent to a Music Technologic Diploma) in 1999. He received a Médaille d'Or at the Ecole Nationale de Musique d'Evry before attending Berklee College of Music in 2004. He graduated from Berklee in 2007 with a Dual Degree in Performance and Jazz Composition. Since then Alex Terrier has been living in New York City. He is an indie artist and has become what you could call a multiple threat: band leader, composer, arranger, teacher etc…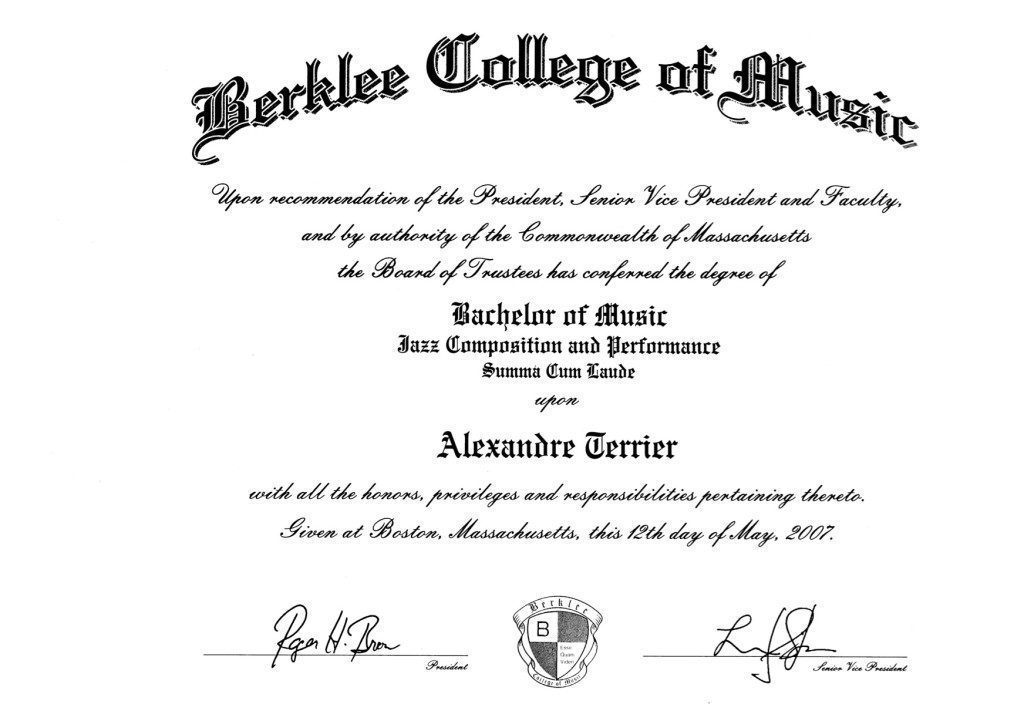 As a teacher, Alex Terrier has been appreciated both by private students and in a class environment. The most common feedback is how passionate he is to share his knowledge and genuinely interested in students' progress. "I remember going to some classes or clinics when I was a kid and being so disappointed. You know, getting out of the class without knowing anything new and nothing to motivate me. Today that's the worst thing that could happen to me, someone telling me he/she didn't get anything from my class. Someone trusts me to learn something so I try my very best to share my knowledge in a relax and non-intimidating way, but at the same time one has to understand that a serious commitment is necessary".
A born leader, he manages his own bands both in North America with the Alex Terrier New York Quartet and Europe with the Alex Terrier European Quintet. He is also increasingly present in South America. "My goal is simple: try to create some beauty and share it. The magical couple hours I share with people during a concert help me keeping on. If I can help even just a few persons to feel better with my music, my life won't be totally useless".
Alex Terrier has been interested in composition since an early age, studying both classical and jazz masters: "When I was a kid I would do everything I could to study and understand how it was possible to write music. How could I write melodies like Bach, Debussy, Mozart? How could I orchestrate like Ravel? This is an impossible task to me. I just try my best and hope that someone will be moved by my music". His three albums feature his compositions. Stop Requested was recorded while he was still studying at Berklee and legendary George Garzone supports his then student on 6 tracks. Joe Lovano talks about Alex Terrier as "a very gifted and expressive saxophonist […] with a very strong developing conception as a composer and a soloist", and Roundtrip, recorded in NYC in 2009, illustrates this quote perfectly. His most recent album with Kenny Barron was released in 2015. 
Big band music has also been a huge part in Alex Terrier's love affair with jazz. He spent countless hours listening to and studying Duke Ellington, Count Basie, Fletcher Henderson etc… and modern ones such as Kenny Wheeler, Maria Schneider etc… Equally fascinated by European composers, Alex Terrier can write for jazz orchestra complex and intricate serial music for big band ("L'Heautontimoroumenos"), swing ("Like Someone In Love", "There Will Never Be Another You") or modern jazz ("Scrupules").
In addition, Alex Terrier's passion for music has pushed him to learn also about the technologic part of his art and has become very knowledgeable with saxophones and mouthpieces. In 2011 Alex Terrier teamed up with Fred Lebayle (Lebayle Mouthpieces) and together they designed a new mouthpiece model, the AT chamber.
You can visit www.alexterriermusic.com for more information, music, videos, etc… and connect on Twitter and Facebook
Alex Terrier is an official artist for:
Keilwerth saxophones: http://www.julius-keilwerth.com
D'Addario Woodwinds: www.daddario.com
BG France: http://www.bgfranckbichon.com/